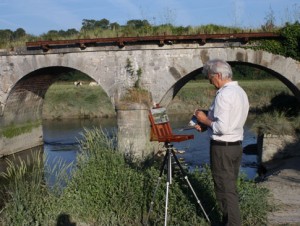 Some of my small landscape paintings from  past years are part of an exhibition at Harbourfront in Toronto, summer of 2017. http://www.harbourfrontcentre.com/visualarts/2017/postcard/
To arrange an event with Lewis Desoto, click here.
Join me at the Gananoque Literary Festival 8 and 9 May 2015 http://www.gananoqueliteraryfestival.ca
French Edition of The Restoration Artist – La Couleur de l'abscence now available. http://www.editionsxyz.com/catalogue/670.html
Open Book Ontario focus
http://www.openbookontario.com/news/focus_ifoa_ontario_lewis_desoto
Forthcoming readings:
IFOA Creemore Ontario October 26, 2013
http://litontour.com/events/ifoa-creemore/
IFOA Toronto October 27, 2013
http://ifoa.org/events/round-table-love-is-a-four-letter-word
Writers and Friends. Port Hope Ontario. November 2013
http://www.horizons.ca/Events/Writers-Friends
PAST:
IFOA Parry Sound Ontario October 23, 2013
http://litontour.com/events/ifoa-parry-sound-3/
Kingston WritersFest September 28 & 29 2013.
http://www.kingstonwritersfest.ca/events.php
Article in Kingston Whig-Standard September 2013
http://www.thewhig.com/2013/09/12/the-restorative-power-of-art
Thin Air Winnipeg Writers Festival September 23 2013
http://www.thinairwinnipeg.ca
My Secret LIfe. An essay at http://www.allysonlatta.ca
http://www.allysonlatta.ca/2013/06/05/my-secret-life-a-writer-confesses-an-essay-by-lewis-desoto/
Review in Winnipeg Free Press May 18/2013
http://www.winnipegfreepress.com/arts-and-life/entertainment/books/intriguing-questions-about-love-memory-endurance-207987811.html
Interview on swallowdaily.com
www.swallowdaily.com/2013/05/interview-author-lewis-desoto/
Book Launch Thursday May 16, 2013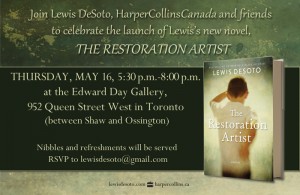 Article in The National Post May 7, 2013
arts.nationalpost.com/2013/05/07/lewis-desoto-death-and-resurrection/
Thursday, May 16th, 2013.  5.30 – 8pm. Book launch. All welcome. Edward Day Gallery Toronto. edwarddaygallery.com
Tuesday, May 7th: The Restoration Artist on sale.
Click here for more information.
Monday, May 6th: Lewis Desoto at the Harbourfront centre, Toronto.
Click here for more information.
Saturday, May 4th, 2013: Keynote speaker at the Ontario Writers Conference.  http://thewritersconference.com