The Restoration Artist
"With the language of a poet and the eye of a painter, Lewis DeSoto has written a book of astonishing depth. This timeless novel lures the reader to a near-mythical island of beauty and longing, and there explores loss, grief and the meaning not only of art but of life itself." —Lauren B. Davis, author of Our Daily Bread and The Empty Room
"Lewis DeSoto has a sure and constant eye for both the physical world and the breach between the artist's vision and the artist's heart. —Tessa McWatt, author of Step Closer and Vital Signs
Leo Millar is a young painter in Paris who seems to have it all—a beautiful French wife, a talented young son, a thriving career. And then in one terrible moment he loses everything. Overcome by guilt and despair, he flees to an island off the coast of Normandy, thinking that his life is over. Soon the island begins to work its magic when Leo encounters a brilliant but troubled musician who is fighting her own demons. But it is only when a strange, damaged child enters Leo's life that he has a chance to move beyond his own losses and find, perhaps, a new definition of love and the restoration of hope.
Click here for more information.
---
Extraordinary Canadians: Emily Carr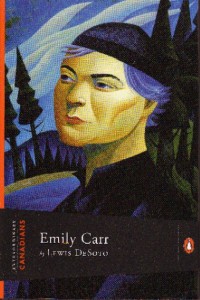 March 2008
Lewis DeSoto sees Emily Carr as a woman in search of God, freedom, and the essence of art. Her quest to be an independent woman and a modern artist takes her from the studios of Paris to deep inside the remote Native villages of the West Coast forests. It is a lifetime journey of almost mythic proportions in which she struggles to define not only herself but also her country. A creator of extraordinary power, a seeker of mystical truth, a woman of unusual courage, Carr is revealed as one of those unique individuals who articulate the symbols and images by which Canada knows itself.
Visit the Extraordinary Canadians Site.
Click here for more information.
---
A Blade of Grass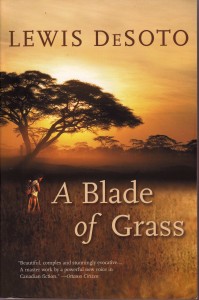 August 2004
Set on the border between South Africa and an unnamed country, A Blade of Grass is the taut story of two women, one white and one black, who struggle to save their farm and, ultimately, their lives. Märit, a young woman of British descent, recently orphaned and newly wed, comes to live with her husband, Ben, on their new farm. Despite its Edenic setting, the land explodes in violence and tragedy, and Märit finds herself caught in a tug of war between the local Afrikaner community and the black workers who live on her farm. Frightened, she turns to the only person who can help her—her maid, Tembi.
Click here for more information.
---